I knooooow I'm terrible! I haven't posted in a veeery long time (understatement!).

A lot has been going on in my life. Just a catch up of the basics:

1. Went home for Easter, got my hair burnt in church
2. Met Edward, who'd been a big part of my life now
3. Moved houses
4. Saw David Tennant and Katherine Tate on stage!
5. Went to Comic Con and met Brent Spiner *dies*
6. Went back home and got an amazing tan!
7. Came back to London only to find that my favorite colleague quit
8. Quit my job
9. Went to Ireland and met Kenneth Branagh *dies again*
10. Got new awesome job literally 5 meters from my old job!1
11. Am very happy!

ButI do have to post these pics, because they were dreams come true!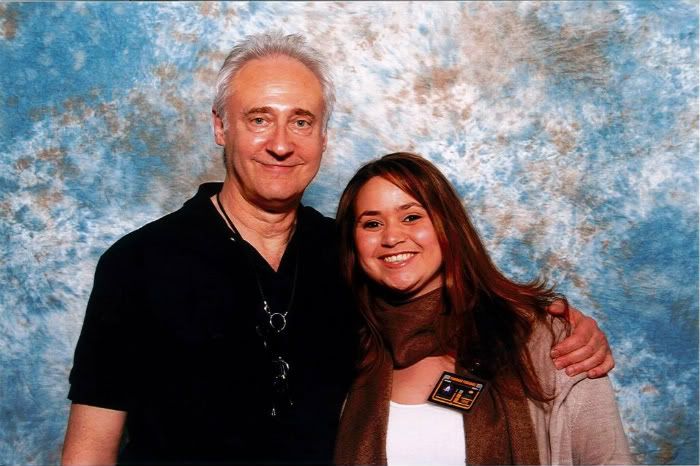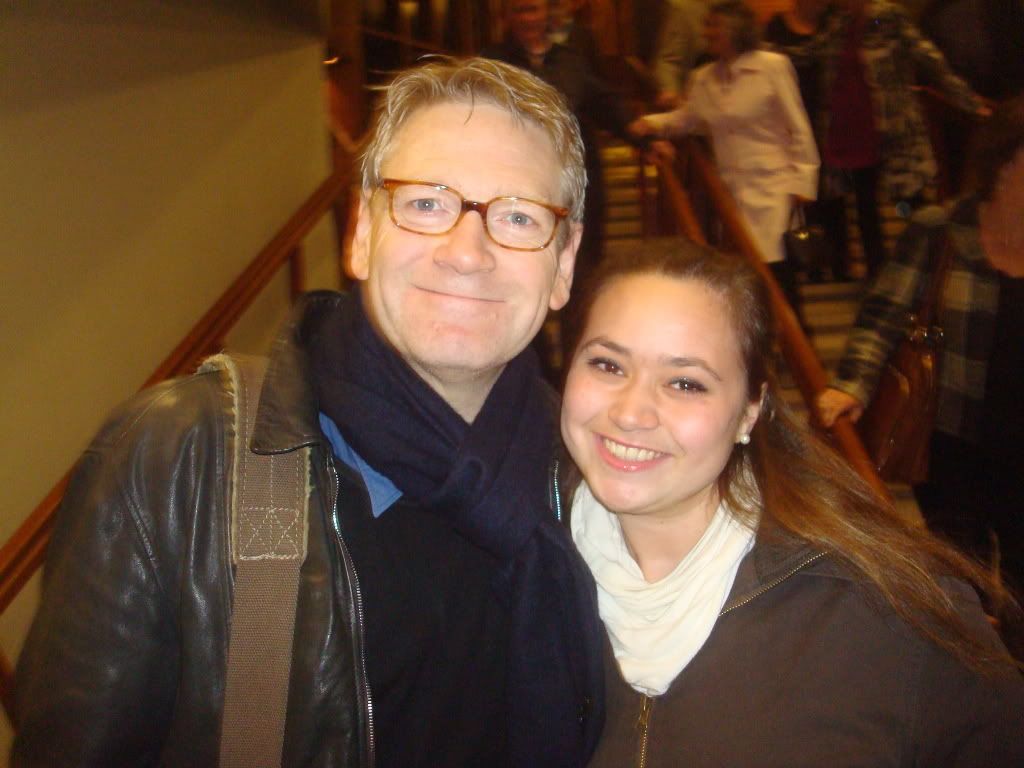 :: Everyone has their ups and downs at work. Either the pay isn't good enough, your boss is a sexual predator or the stress is so overwhelming that you just want to call it quits. There are however days which make up for all that. Today was one of those days. Maybe I should stop rambling about it and simply cut to the chase.

I WENT TO JOHN CLEESE'S HOUSE TODAY!


:: Yup. I think that makes up for a lot, wouldn't you agree??
Current Mood:

crazy
::
Just another day at work today. No crazy people came in today luckily! Dealt with paperwork, made a bunch of phone call and arranged delivery for one of John Cleese's tables. That's about it. My director Pan came in today with a great tan as he was in Cyprus on holiday yet again the last couple of weeks!
::
Karla also came in today and we had tea at cafe Florian. Great tea and impeccable china, reminded me of Stephen's latest attempts to become perfectly Bristish in preparation of the Royal Wedding. His segment, "Stephen Colbert's Crown Jewels" are just side-splittingly funny! You guys HAVE to watch them! It comes in three parts! I love how even Stephen cracks up with the stuff he's doing!
"Is it important to be sporting a stiffy when you meet the Queen?"
"Your Majesty, whad uuuup?"
"I'm used to dressing myself...since the mid 30s"
::
Still haven't managed to watch the Comedy Awards. They aired last night and I haven't found a link to them. Help? Please??
Current Mood:

cheerful
::
It seems for the past couple of months every time I come over here, I keep apologizing to you all for not having updated in ages! Guess what?? I think I have to apologize again! I'M SOOOOO SORRY! You guys are very dear to me and mean a lot to me! Unfortunately RL hasn't allowed me to be on here very often...
::
Work has been quite hectic. One of my new clients is a member of the Qatari Royal Family which means a lot of running around to make sure everything he wants is perfect. He's a very sweet guy (very unpretentious) and he's wife's adorable too!
::
There are a number of plays I've been meaning to see, but the thing I'm excited for the most are the plays that I want to watch during the summer! 'Butley', 'Pygmalion', 'Rosencrantz and Guildenstern Are Dead', 'Richard III', 'The Tempest', 'Much Ado About Nothing'...The list goes on and on! I really have to start scheduling my summer from now!

::
I'm officially an aunt! My cousin Christine gave birth to a beautiful baby girl who's named Clara-Sofia! I'm so excited! I just want to find some time to fly out to Boston to see the new addition to our family! Speaking of family, another cousin of mine was in London last week and we went out for dinner which was amazing! It was amazing simply because I hadn't seen him in 19 years! Yikes! We talked about everything and basically got to know each other as adults.
::
My friend and colleague Karla had her leaving party on Wednesday and it was fantastic! I'm really sad to see her go (she's going back to Germany) but I guess that's how life is. People come and go all the time and you simply have to find a way to cope. Anyway, the party started off calm enough and then disintegrated into massive levels of craziness as the night went on! Harrods parties are always insane! I was looking at all the pics we took the next day, and you can tell the level of drunkedness according to how many clothes the guys are wearing! Beginning of night: all wearing suits. 1 hour later: ties are gone. 2 hours later: jackets are gone. 2.30 hours later: shirts gone! Lol! Fun, fun night!
::
The most important thing I wanted to post about though, is the mind blowingly super awesome event that took place on friday night! Stephen appeared on Jimmy Fallon's show and sung the worst song in history,
'Friday'
by Rebecca Black. The man never ceases to amaze me. He manage to take the most annoying song ever and turn it into a piece of gold! I really don't have words for it! Take a look!
I love the fact that the Knicks City Dancers also featured, seeing as
they're already quite acquainted with Stephen!
;D I seriously cannot stop singing this song! I've been singing it at work for the past couple of days and it's been driving everyone nuts! Sorry guys, but I have to show my love for Stephen!
Current Location:

Colbert Nation

Current Mood:

ecstatic

Current Music:

Stephen Colbert - Friday
Happy 55th Birthday Nathan! You will always be the leading man on the stage of my heart!
Current Mood:

cheerful

Current Music:

The Daily Show
:: Wow! I just realized how long it's been since I last posted! I want to apologize to all you guys! It's been really crazy the last month!

:: Christmas saw me bed-ridden with a 39 fever. My mum and sis were in town so they looked after me a bit. When I got back to work, the Harrods sale started. People really do go crazy during sales periods! I walked down to the perfumery one day and people were screaming and yelling, trying to grab as many boxes as they possibly could! Good Lord! I did however do some shopping myself so I'm not complaining!

:: New Year's was calm. Stayed at home with friends good food, wine and champagne and watched the fireworks on TV. When I went back to work I got a visit from Roja Dove who came by to wish me a happy New Year and chat a bit. I really can't remember what we talked about as I was too busy staring at all the diamonds the man had on him! It was like I was staring at a gay pimp!

:: On the 6th I flew back home, surprising all my friend whom I hadn't informed of my arrival! They flipped out! It was really great going out with them again, though I never realized how tiring my life back home is! All these people talking to me about all their problems! Tiring in a good way though.

:: My Director had his birthday on Friday so we all went out for drinks on Thursday. It was loads of fun! He's a very funny guy and we all work great together as a team! Last month I brought in the December issue of GQ magazine which featured Stephen on the cover as Patriot of the Year. The following is a conversation I had with him about it:
Me: "Hey Pan! Did you see my new magazine??"
Pan: "Is it porn??"
Me: "No, it's not porn!"
Pan: "That's disappointing. *I show him the magazine* Why did you tell me it's not porn?? For you, this IS porn!"

:: John Cleese was back yesterday at work! I was so happy to see him again! We chatted, he showed me pictures of his cat and I helped him out with some other things he wanted. His cat's name is Monty (lol) and before i managed to comment his girlfriend said "It's not what you think. It's because 'Monty' is the name of one of my favorite clubs." He asked for my business card which I gave and he was amused when he saw my surname! He had me pronounce it and then I had to explain the origins of it. I swear the following is not made up! My grandfather on my dad's side is Polish, my grandmother on my dad's side is Lithuanian, my dad's American and my mum's Greek-Australian! This of course had him in stitches and he promptly replied "You should have just be called 'Smith'!" It was a really fun day! He called me again this morning and we chatted again.

:: Harrods reached 1 Billion pounds today, making it officially the most successful department store in the world. Good stuff.

:: So that's about it for me. Nothing very exciting. Very busy with work that I barely have time to watch my favorite TV shows. I managed to watch some episodes of 'Castle' and have to say that, that show is AMAZING! Also, my love for Giles from 'Buffy' is just getting bigger and bigger! *sigh*
Edit:


I just realized that from my initial mention that John Cleese walked into work, I haven't said what else has transpired. He walked in a second time, but I didn't see him. He walked by behind me, and when he was gone my other Director (Pan's wife) said "Did you notice John Cleese just now??" I promptly dropped the folder I was holding and ran to see him! Then, he came in again and was walking through our showroom. The man seems to love our stuff! I master the nerve and go up to him and say "Do you need any help?" and he responds with a gracious "No thank you. Just getting some ideas." I just smiled and walked away because again I was too freaked out to say anything else! Then -finally- he comes in again and I spent two hours with him showing him stuff which he finally bought and he said yesterday that he loves everything he bought and really appreciated my help! His girlfriend Jennifer was with him on all occasions and the first time I served them and yesterday kept telling me how sweet I am! Awwww! I may have embarrassed myself the first time as I even went as far to offer them chocolates to please them! I'm sorry! I love the man! Btw, John preferred black chocolate! Also, does this mean that John is officially a loyal client of mine?? I'd like to think so!
Current Mood:

bouncy

Current Music:

Flo Rida - The Club Can't Even Handle Me
MERRY CHRISTMAS EVERYONE!!!

:: I hope everyone is having a fantastic time!
::
Personaly I'm having a pretty good tme, if we exclude the fact that I'm pretty sick and as high as a kite on medication! No worries though! My mum and sis are here and we're having a blast! We opened our presents and I got tons of great stuff including a TARDIS book! My mum's awesome that way! We had our festive meal completed with tons of sweets and then sat down and watched the Doctor Who Christmas Special!
::
All in all, a good day methinks! Will watch "A Colbert Christmas" later on to make today the perfect day!
::
I've been really busy at work lately, but it's been a good month! Loads of clients and parties. I did make out with a co-worker a bit and things have been a bit awkward, mainly because I think he wants us to talk about it and I keep avoiding it! It's not all that bad though since he's not in my department and I don't have to see him on a daily basis. I will at some point master the courage to talk to him!
::
My manager -who I swear is Shrek in human form- has been sick the past couple of days but showed up today in a very giddy mood! I blame too much medication! He was thoroughly amusing and even started randomly doing
John Cleese's epic walk
from the 'Fawlty Towers' episode, "The Germans"! I then joined in and you can imagine how we were perceived by people going by!
::
In other news, Stephen won Twitter!!! DAMN STRAIGHT!
Stephen won the first golden Twitter Award
for his tweet about the BP oil spill which read "In honor of oil-soaked birds, 'tweets' are now 'gurgles'". EPIC! Stephen has also made me want to lick my syrup off my pancakes due to
his comment
a couple of nights ago *blushes*

::
I started watching 'Castle' and I bleedin' love it! I've also been watching 'Buffy' and have developed a major crush on Giles! Gives a whole new meaning to sexy librarians...
::
I'm at home at the moment nursing a bottle of wine. My corkscrew broke and it took me 20mins to open it using from cooking utensils to shoes to get it open! I did prevail however!
Current Mood:

cheerful
Where oh where has this video been all my life?? A crossover between Star Trek and Will Ferrel's Brat Pack with special appearances by Stephen Colbert, Jon and Patrick Stewart (no relation) and Christopher Walken uttering the famous words "I gotta have more cowbell!" Steve Carell as Brick is also hilarious ("I killed a man with a trident!")!
Current Mood:

amused


And the best part: The fifth Doctor was in it!!! WOOHOO!!! The 5th Doctor SINGING!!!
Work has been great blah blah blah. The only interesting thing is that a friend of mine has come over and we've been hanging out! We're both theatre lovers and saw a musical tonight, which may have reduced our IQ down 40 points at least...but it was so much fun!
Current Mood:

happy